Geoffrey Manning Bawa(1919 – 2003) can be considered as the most outstanding Sri Lankan architect in its modern history. Bawa comes from a multi- ethnic background, Dutch Burgher maternal lineage and British and Arab paternal lineage. Geoffrey went to study in Britain for university education following the rest of his family.
Education
Bawa attended Royal College, Colombo and went to Britain. There he attended St, Catherine's College, Cambridge and followed English and Law gaining a BA. Next Bawa became a Barrister in 1944 after his completion of study of law at Middle Temple, London.
The young man returned to Ceylon and joined a Colombo law firm. After Bawa's mother passed away he left the country, resigning from the firm to travel in the Far East through the United States, Europe and Italy for almost two years. Though he was tempted to settle in Italy, Bawa returned to the country in 1948. Bawa bought an abandoned rubber estate and thought of remodeling the property according to his wishes. However, his lack of proper architectural knowledge made him realize the need to study architecture.
Career in architecture
Edwards, Reid and Begg was a prominent architectural practice known as Colombo architectural practice at the time. Bawa was apprenticed to sole survivor Reid in 1951. However, a year later Reid died. Bawa' s undying passion for architecture made him fly back to Britain and join the Architectural Association in London as an architectural student. After earning his diploma he also joined the Royal Institute of British Architects in 1957. At the age of 38 Geoffrey Bawa returned to Ceylon.
Bawa joined as a partner to Messrs. Edward, Reid and Begg, architectural firm. Then Danish architect Ulrik Plesner joined the firm in 1959. The two talented architects designed many buildings together. Bawa joined Sri Lanka Institute of Architects. In 1967 Plesner left Ceylon.
Influence
Geoffrey Manning Bawa is one of the most influential architects to both Sri Lanka and Asia in the 20th century. Though he stepped into the field a little late compared to others his influence is a huge driving force for the young architects. His sensitivity to site and context was a rare quality in an architect and most of all, his designs speak for sustainability. International hoteliers were searching for Bawa's design.
Geoffrey Bawa Work
Bawa's designs inspire everyone who visits them. His area of expertise is tropical modernism. Bawa excelled at integrating local context and nature into modern architectural styles. Therefore, we see how many of the remaining buildings are still considered as genius works.
His works include a wide range of spaces; houses, hotels, schools, offices and government buildings. His work expanded out of the island to India, Indonesia, Japan, Fiji, Singapore and Mauritius. Some of his works are as follows;
Lunuganga Estate
Lunuganga is his first and one of the most notable works of Bawa. It is a beautiful estate in Bentota which was built in an abandoned rubber estate bought by Bawa. It has been transformed into a collection of outer gardens, inner gardens, open and airy living spaces. The name 'lunuganga' translates to salty river, which derives from the lagoon flowing near the estate.
Now, Lunuganga has guided tours daily for foreigners and tourists alike. If you like to spend the day at Lunuganga and enjoy the complete experience of dining, stay and garden tour, it can be booked directly. Visitors can enjoy local cuisine as well as international cuisine at the lake view restaurant. Most of the ingredients are home grown and cooked fresh. Visit the official website for more information; https://geoffreybawa.com/lunuganga
Sri Lanka Parliament
Designed by Deshamanya Geoffrey Bawa upon the invitation of President J.R. Jayawardene and built by Japanese Mitsui Group Companies, the Sri Lanka Parliament building was completed in 1982. It is one of the picturesque government buildings. The building is built atop an island surrounded by an artificially made lake. The symmetrical debating chamber is inspired by Westminster Palace. The furnishings of the chamber's suspended ceiling were formed by catenaries of small aluminum bars that glittered like a tent of gold. A huge chandelier of silver coconut fronds made by artist Laki Senanayake hangs above the centre of the chamber and silver korale flags lined the galleries beautifully.
Kandalama Hotel
Kandalama also known as Heritance Kandalama was built in 1992, one of Bawa's natural wonders. The hotel is located overlooking the ancient Kandalama reservoir towards the south, which gives Sigiriya rock a distant look. This view comes from it being built on a ridge against the north facing cliff. The large building follows the shape of the cliff.
It can be a tranquil getaway for those who are leading a noisy life. A hidden gem for nature lovers not so far away from the other tourist's attraction like Sigiriya and Dambulla Cave Temple. Visitors will be satisfied with the quality of hospitality, services and architecture of this 5-star hotel. It is a hotel contributing to sustainability in every possible way.
The Strathspey Estate Bungalow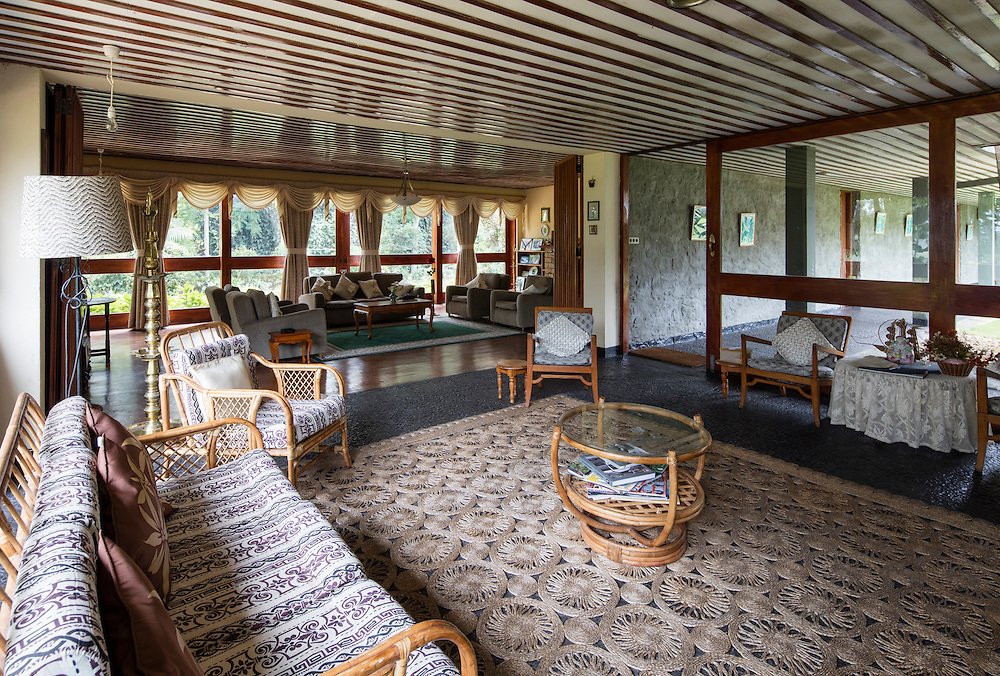 Old yet in-style would be the perfect praise for Strathspey Estate Bungalow. Geoffrey Bawa undoubtedly has created a tropical wonder through this bungalow together with Ulrik Plesner. This 1960 bungalow is situated on the eastern side of Adam's Peak. Compared to conventional estate bungalows which are cellular in plan and have larger views, Strathspey Estate Bungalow is inward looking. It looks like boxes within boxes.
There is an inner courtyard surrounded by rooms which is also known as the core of the bungalow. Bungalow's stunning and airy sitting room and dining room are joined together by an empty space. The bungalow is still intact and occupied as the manager's bungalow.
Kalutara Anantara Resort
The resort was completed in 2016 in accordance with Bawa's design. Situated in the south-west coast, Anantara has a seclusive beach front. The resort includes a set of luxurious villas, suites and rooms.
Achievements
President of Sri Lanka Institute of Architects – 1969
Established The Geoffrey Bawa Trust – 1982
Conferred title of Vidya Jothi (Light of Science) in the Inaugural Honours List of the President of Sri Lanka – 1985
Title Deshamanya (Pride of the Nation) in the Honours List of the President Sri Lanka – 1993
The Great Master's Award 1996 incorporating South Asian Architecture Award – 1996
The Architect of the Year Award, India – 1996
Asian Innovations Award, Bronze Award – Architecture, Far Eastern Economic Review – 1998
The Chairman's Award of the Aga Khan Award for Architecture in recognition of a lifetime's achievement in and contribution to the field of architecture – 2001
Awarded Doctor of Science (Honoris Causa), University of Ruhuna – 2002