The well-renowned travel guidebook publisher, Lonely Planet, named Sri Lanka the best destination to travel to in 2019. This year CNN Travel listed Colombo, the capital of Sri Lanka, as one of the most-visited destinations in the world. Thus let's discuss why Sri Lanka is so special to visit.
1. Glorious Beaches
You would certainly love Sri Lanka's mesmerising golden sand beaches that enjoy the proximity of turquoise shallow lagoons.There is a lavish choice of palm-lined beaches on all the coastline of the county, most of them located on the southern shores. Most beach destinations provide a wide range of recreational activities on the water like diving, snorkelling, excursions, and water sports like kayaking, parasailing, jet skiing and paddling.
Travellers can find both luxury and budgetary accommodation options and restaurants right the oceanfront where the nightlife is quite vibrant .And the best beaches in Sri Lanka for beach holiday are Arugam Bay, Kallady beach, Bentota beach, Bruwela beach, Colombo beach, Hikkaduwa beach, Kalkudah beach, Kalpitiya beach, Matara beach, Negombo beach, Nilaveli beach, Trincomalee beach, Weligama beach.
2. Astonishing Wild Life
Being a jungle-rich country with different forms of landscapes and marine environment, Sri Lanka owns an excess of great natural habitats that are home to a lavish collection of flora and fauna, with the considerable amount being endemic to the country, animal and bird wealth and fantastic marine world. The country has 26 national wildlife parks and major wildlife attractions being leopards, elephants, sloth bears, blue whales and sperm whales.
Wilpattu national park and Yala national park are among those places that are famous in Sri Lanka for offering wildlife adventures to tourists. It is best to visit these parks in February-October due to the semi-arid climate of the parks.
3. Cultural Triangle
Sri Lanka is one of the few countries that has a rich cultural heritage and vibrant past that defined the very identity of the country before the world. The cultural triangle, a conceptual boundary in the centre portion of the country, is one of the best-visited tourist destinations that is constituted by cities like Kandy, Polonnaruwa, Anuradhapura, Sigiriya, Yapahuwa, Dambulla and Buduruwagala.
All around the region, there are historically and culturally relevant entities that date back thousands of years back like several UNESCO world heritages, Buddhist monasteries, temples, monuments, architectures, cave, stupas, shrines, sculptures, murals, remnants of country's customs, festivals and traditions-with most of them being either largest or the most antique of the world. The best time to visit these places are May and June for vesak and poson festivals. In addition to that it's better to visit Kandy city in August because of the Kandy Esala perhera.
Sri Lanka is blessed with a special cuisine flavoured with inherent spices. Most of the time rice and curry are the main menu for all mealtimes with most curries made with seafood, spices, coconut, jack-fruit and chicken curry.The fish curry is an amazing dish according to the locals. Sri Lankan main menu also includes string hoppers(steamed rice noodles), pittu, lampris and seafood like prawns, lobsters and crabs.
Furthermore kottu and egg hoppers are the most popular street foods in Sri Lanka, In addition to that for tea breaks it's better to try countryside tea stalls where nice teas and coffees coupled with a wide variety of fried-snacks .
5. Adventure And Special Interest Sports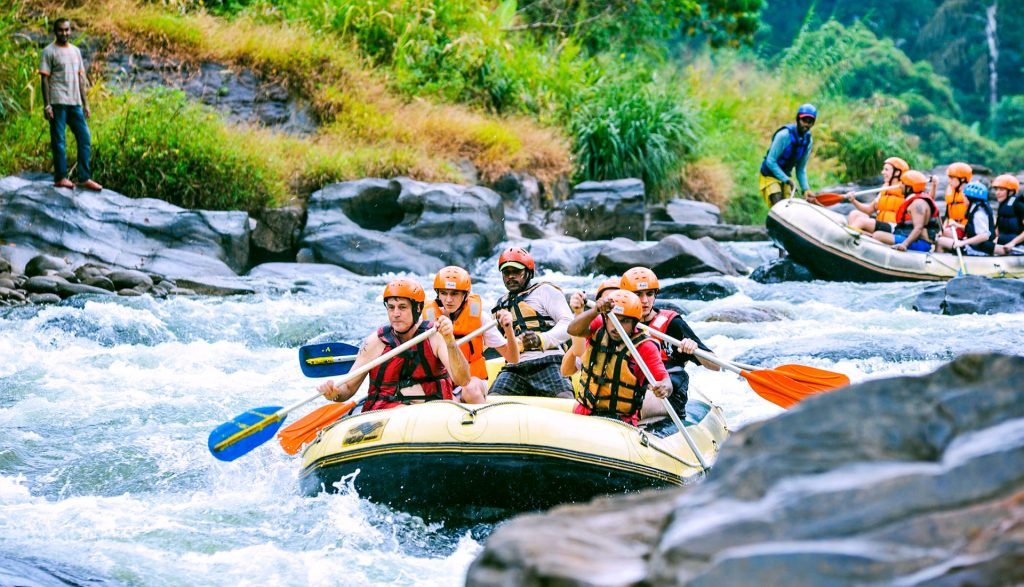 High peaks, rocky lands, mountain gaps and free-flowing rivers in Sri Lanka provide substantial hiking experience for adventure lovers.The best places for these adventure lovers are Ella and Kithulgala. Ella mountain range is an ideal hotspot for avid adventures. You can go hiking on Ella rock or walk up to Little Adam's peak. And Kithulgala is famous for water rafting and it is one of the best adventures one can seek in Sri Lanka.
In addition to riding the tides of the Kelani river, other popular tourist sports Kitulgala provides are confidence jump, waterfall abseiling, stream sliding, bird watching, jungle trekking and cave exploration. Finally it's better to visit these adventurous places between February and April.
6. Ayurveda Spa Treatments
Sri Lanka is always known for its pure rendering of antique forms of oriental spa therapies and massages that would refresh the mind and rejuvenate the body. All over the country you can easily find a spa centre & especially on beach sides. . These spas carry all sort of treatments and practices like Hatha Yoga, Kundalini ,Tai chi, etc for reasonable prices.Massage types of various oriental countries, like Indonesia, Bali and Thai are accessible in addition to Sri Lanka's own distinctive methods of body wellness.
Ayurveda therapies, natural beauty services, hydrotherapy, herbal baths, reflexology, yoga classes, and body treatment are furnished as well.The most famous spa centres in Sri Lanka are Om Shambhala, Siddhalepa Ayurveda hospital and Prana lounge holistic health & yoga centre.
7. Most Scenic Train Rides and Wondrous Tea Cultivation
Sri Lank has amazing train routes, go through hill country tea plantations , nice rural villages and golden sandy beaches. Taking a relaxed train journey from Ella to Kandy is necessary for achieving completion on your Sri Lanka tour. The route is reckoned one of the most splendid and pleasing journeys in the world.
Occasionally trains can be jam-packed, but travelling gives a comforting and mind soothing experience. Don't worry if you have not your own seat, hanging out of the doorways shall be much more fun. Central hills of the country starting from Hatton, Bogawantalawa, Dickoya to Nuwara Eliya, almost every high elevated town in the country is covered with a layer of Sri Lankan premium quality tea plantations, thus this gives a nice scenery to the hill country train rides.
8. Wild Elephants
Sri Lanka is one of the Asian countries that are in possession of the largest number of elephants and keeps a high density of wild Asian elephants.Travelers are willing to observe herds of elephants acting naturally and freely while going about their daily lives. In the country and in various wild areas, there are between 5,000 and 6,000 elephants, according to a World Animal Protection Organization assessment.
There are Six places for you to see wild elephants in Sri Lanka – Yala National Park, Udawalawe National Park, Wilpattu National Park, Minneriya and Kaudulla National Parks, Elephant Transit Home, Pinnawala Elephant Orphanage. In most of them, you shall be offered jeep safari. During the months of May to September around 400 Asian elephants gather by the lake at Minneriya National Park to feed, socialise and frolic in the water. It is thought to be the largest gathering of this species of elephant in the world. Thus it is the best time to watch elephants.
9. Comfortable Hotels
Overall the island is blessed with magnificent hotels usually established in eye-catching settings. What is even more amazing about these places to stay in Sri Lanka, is that relative to the quality of service and standard of these properties available, they offer very good value.The coastal areas, especially the west and south, have multifarious resort hotels, where package tourists mostly stop by. Several are designed by Geoffrey Bawa,one of the famous Sri Lankan architects.
There are also an increasing number of boutique hotels in the west and south coast, mainly centred at Galle And also hill country towns such as Kandy, Nuwara Eliya and Bandarawela is famous for colonial era hotels, and it is good for those who like adventure sports. There are nicely transformed colonial homes, tea and rubber plantation buildings, jungle cabins, tree-houses and eco-lodges as well as camping under canvas.
10. Sri Lankan Festivals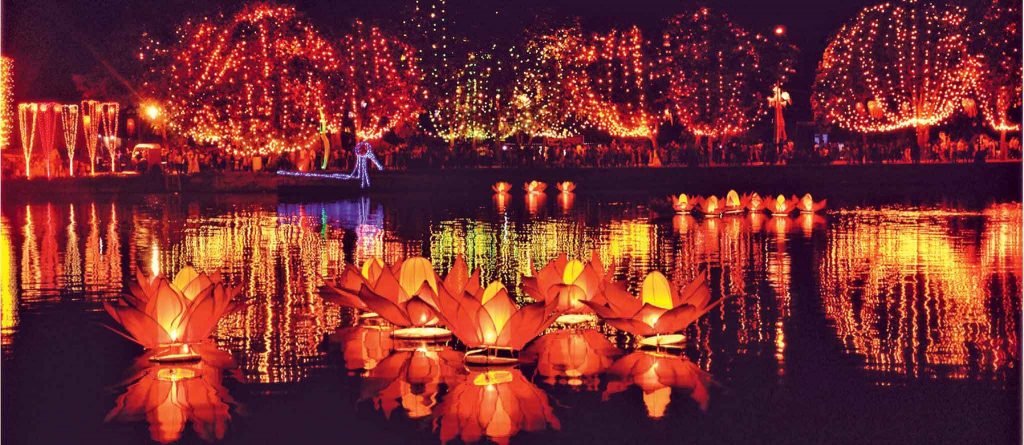 Nearly all the world's major religious denominations are represented in Sri Lanka. Number of eye-catching festivals, giving new life to past traditions and mystical practices of the islanders, are not to be missed. The main festivals are, Aluth Avurudda – the Hindu and Buddhist New Year's festival in April. For two days life takes place on the streets – with music, fireworks and delicious food.
The Vesak festival in May is the most important festival of the Buddhists, which marks the birth, enlightenment, and death of Buddha. Roads and houses are enrich with ornate lanterns and all of Sri Lanka looks like a single sea of lights. At the Kandy Festival (July/August) vacationers can immerse themselves into the mediaeval past of Sri Lanka: ancient costumes, vibrant dances, music and decorated elephants unleash the beauty of the rich tradition of the island.